I recieved my package today! Thanks Kristine, the dish rags rock!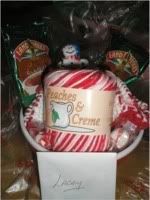 I pulled this out of the box and it was wrapped so pretty! I saved the ribbon. :P
Inside were 2 packages of mint cocoa mix, a bendy snowman, 4 stitch markers that spell Knit, 2 cute pepermint dishcloths, and a ball of peppermint Peaches and Creme, all nestled inside of a perfect for cereal red bowl. This was such a sweet package! I love the cloths, and can't stand to use them for nasty dishes.
Round peppermint dishrags. Too cute for words!